---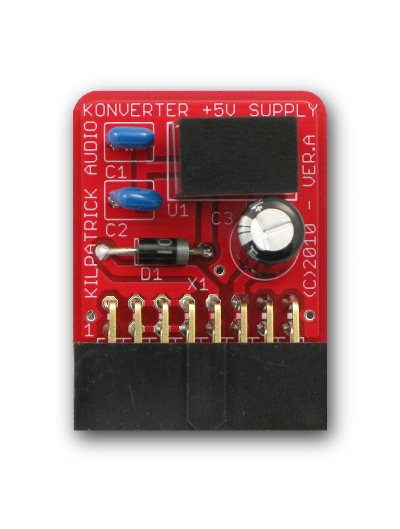 KONVERTER // +5V Supply
High-efficiency +12V to +5V Power Module
With more and more Eurorack modules requiring +5V to power digital circuitry, having +5V available in modular cases is becoming increasingly important. The Kilpatrick Audio KBOX Enclosure / Power Supply comes with a +5V as standard, but many manufacturers still only provide +12V and -12V. Thus we created the KONVERTER.
By using the latest in power technology, the KONVERTER draws only 260mA from your +12V supply, yet produces a full 500mA on its +5V output. With more than 80% efficiency, this means that the draw on your existing supply is minimal, and nearly no heat is produced by the module itself.
The entire module is only 1.0" W x 1.3" H and 0.5" thick. Simply plug it into your existing 16 pin Doepfer-style power bus board and all outputs will now provide +5V to modules which need it.
Features and Specs
+5V high-efficiency DC-DC converter (>80% efficiency)
Max. output: +5V @ 500mA
Max. input current: +12V @ 260mA
Max. output ripple: 20mVp-p
Dimensions: 1.0" x 1.3" x 0.5" (W x H x D)
Designed and made in Canada using high quality parts.
Warranty: 1 year
Availability
No longer available.
---