---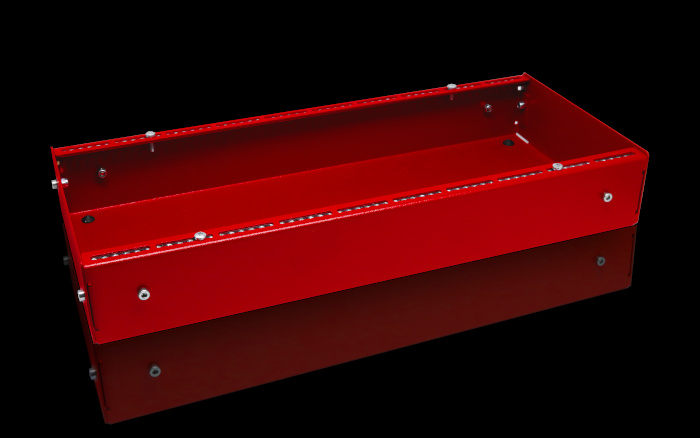 Super Skiff™ 60HP Version Shown
Super Skiff™ Eurorack Enclosures
Eurorack Enclosures
Make your setup look and feel solid and professional with the Super Skiff™ series from Kilpatrick Audio. We have created the simplest and most effective Eurorack enclosure ever designed. By using a single light-weight piece of aluminum the Super Skiff™ offers a sturdy, good looking enclosure at around half the weight of other enclosures. Through careful engineering we have eliminated the useless aluminum extruded rails which simply add weight and cost to your setup. Threaded holes are provided via high-strength steel threaded strips which are rugged and easy to use.
The Super Skiff™ is offered in two versions: 60HP and 84HP. Both are designed for table-top use and come with threaded strips and bolts (M3 type) as well as rubber feet and stylish stainless enclosure hardware. Multiple units can be joined together with the included hardware for multi-row setups. You can fit modules with depth of up to 44mm which should accommodate all modern modules. The rail-free design offers even more internal space for cables and cooling to ensure maximum lifespan for your modules. Protect your modules and look great on stage with these stylish enclosures!
Features and Specs
60HP and 84HP Versions - Choose the size that's right for you.
Fits Most Modules - With a generous 44mm max. depth all modern modules including all current Kilpatrick Audio modules will fit.
Lightweight Construction - Enclosures are made from a single piece of lightweight aluminum. Hardware in the corners adds strength.
Threaded Strips and Bolts Included - Ships complete with two threaded strips and a full set of bolts (M3 type) for mounting modules.
Integrated Hardware and Rubber Feet - The enclosures come assembled and ready to go. Just add modules!
Stacking Hardware Included - Make multi-row setups by joining multiple enclosures with the included hardware.
Overall dimensions: 12.1" x 5.322" x 1.865" (307.3mm x 135.2mm x 47.4mm) - 60HP version
Overall dimensions: 16.9" x 5.322" x 1.865" (429.3mm x 135.2mm x 47.4mm) - 84HP version
Spacey Blank Modules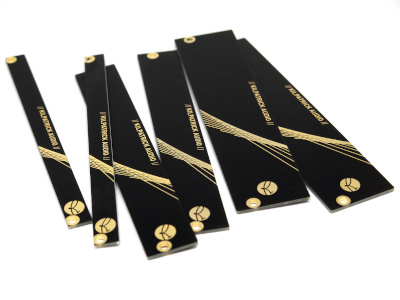 Spacey blank modules are a great way to fill extra space in your enclosure while also leaving space for upgrades. We offer Spacey modules in packs of six including: two 2HP panels, two 4HP panels and two 6HP panels. They are offered along with Super Skiff™ enclosures.
Availability
Super Skiff™ 60HP version
Price: $119 USD

Super Skiff™ 60HP version plus Spacey blank panels (six pack)
Price: $149 USD

Super Skiff™ 84HP version
Price: $139 USD

Super Skiff™ 84HP version plus Spacey blank panels (six pack)
Price: $169 USD

---