---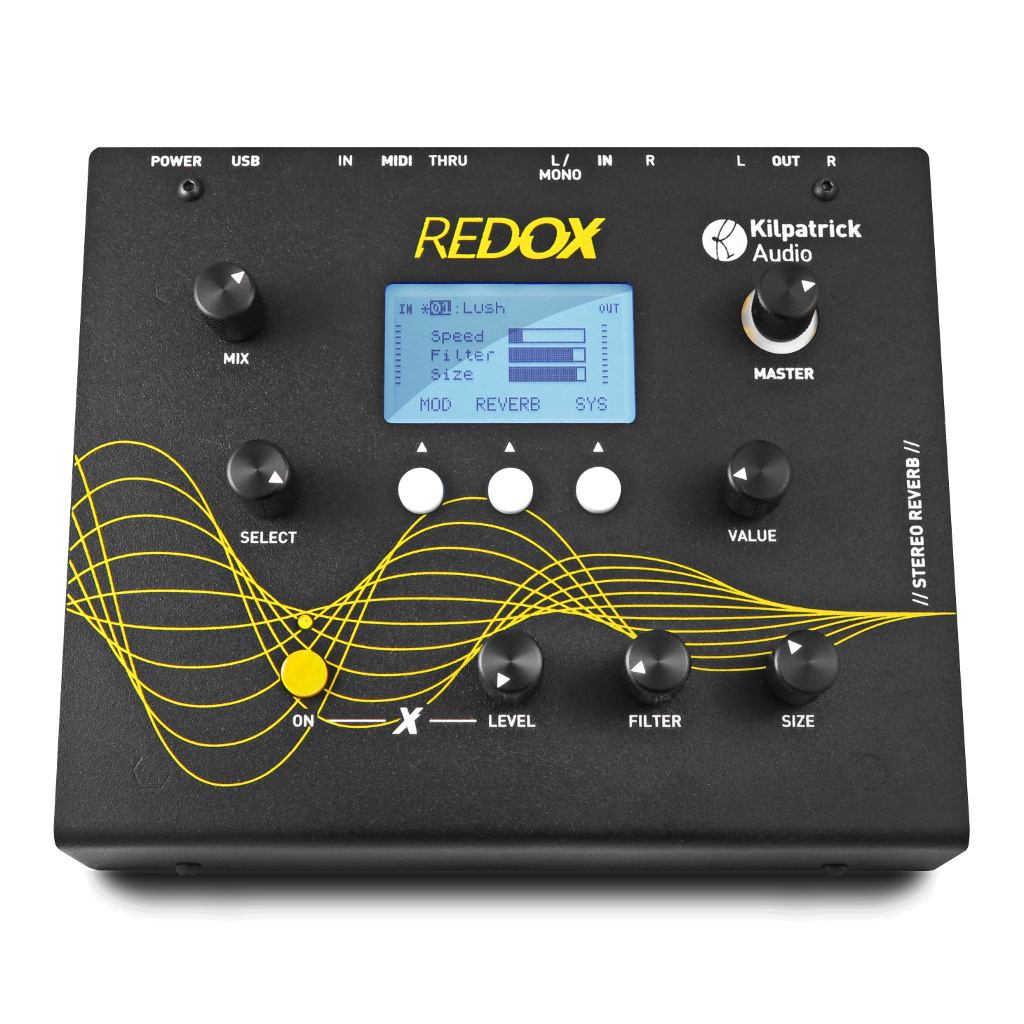 REDOX - Stereo Reverb
Stereo Algorithmic Reverb Processor
---
Price and Availability | REDOX Manual | Sounds | Videos
---
Reverb is the key to bringing out the best is so many sounds, and this is especially true with electronic music production where we often start off with excessively dry signals. REDOX is designed from the ground up to be a companion for electronic musicians and producers looking for a universal reverb solution for both studio and stage. With a fast and intuitive user interface, great metering, and a wide range of algorithm types, REDOX is ready to impressive you with its sonic flexibility.
REDOX is part of our new line of power desktop music machines designed to offer studio-grade effects in rugged, portable units. Designed to complement synths, drum machines, DJ tools and computer-based audio interfaces, REDOX integrates perfectly into the modern studio or performance setup.
Reverbs
Designed from scratch, the REDOX reverb algorithms offer both classic and modern sounds that use a number of proven reverb structures to create subtle and rich reverb sounds to suit a variety of uses including synths, drums, vocals and more. All effects allow their filter and size controls to be adjusted in real-time from the front panel, as well as an additional parameter based on the algorithm chosen.
MOD Effects
REDOX gets even better when you add MOD effects. These additional effects are like having a separate effects processor strapped around the reverb unit. Signals can be processed before and/or after the reverb in the signal path. Effects such as phasing, flanging, vibrato and panning and various distortions can be used to create special sounds. And special built-in looper lets you create textures that can continue feeding the reverb input while you perform new material. The MOD and reverb effects can be separately set up, but saved together in a single preset. This lets you create complex setups that you can call up quickly.
USB Power and MIDI Control
By using the latest technology REDOX has been created to run off USB power with just over 1W of power usage. Take you studio on the road or to a park without worrying about bringing the correct power adapter. You can even plug multiple units into a multi-output USB power supply. Or connect REDOX to your computer and control over MIDI. But despite its tiny power consumption REDOX still has a proper audio section with high quality TI op amps designed to interface with most electronic music gear flawlessly.
Built-in DIN MIDI ports allow REDOX to fit into your sequencer and MIDI setup with all parameters being controllable in real-time via MIDI. You can change presets and adjust parameters via CC messages. The built-in hardware THRU port offers a low-latency copy of the MIDI IN signal to pass to other units.
Powerful Core1™ Technology from Kilpatrick Audio
We use the best technology that we can fit into our products, and in the case of REDOX that means something completely new! Our Core1™ hardware technology uses the latest Digital Signal Processor (DSP) chips, efficient power management and high-end analog audio components. In addition, our companion software platform helps us develop better algorithms and make the most of the powerful DSP hardware.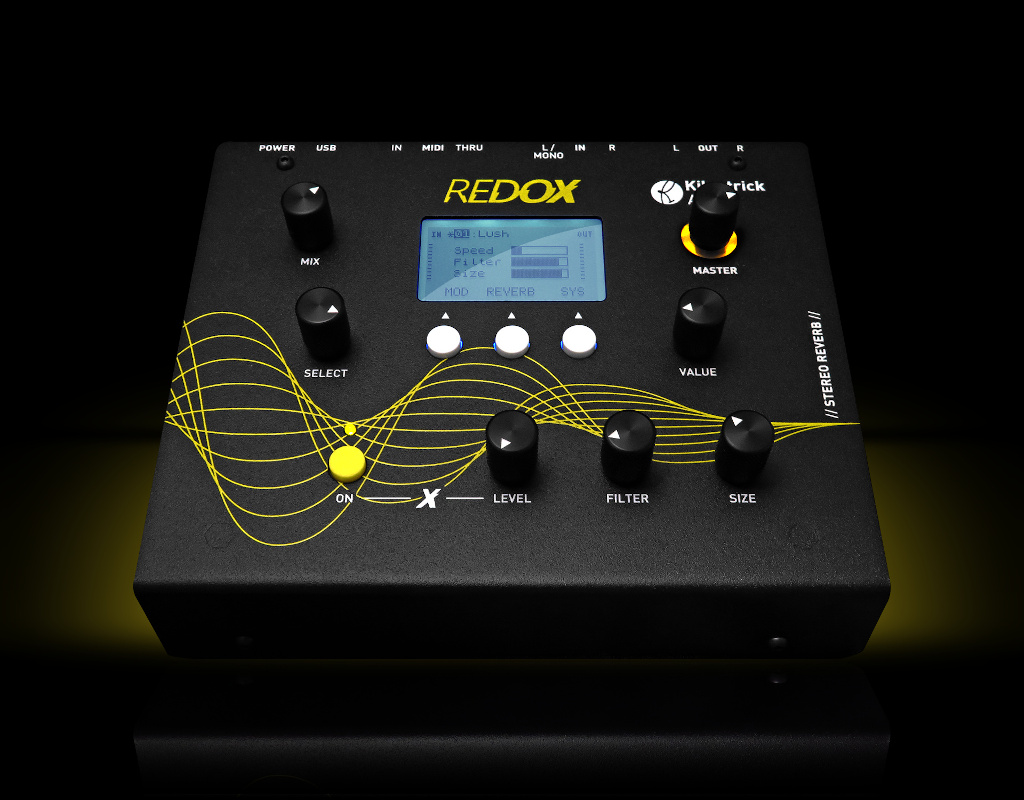 ---
Features and Specs
Stereo algorithmic reverb with high dynamic range processing
Many reverb algorithms to choose from, including:

Kilpatrick Audio's signature Lush Puppy algorithms great for fast synths, drums and guitar
Classic old-school reverbs perfect for old-school synth sounds
Multi-tap delay effects with a selectable number of taps
Smooth hall and room types perfect for vocals and instruments
Super long and smooth reverbs perfect for creating ambient textures

MOD effects work along with reverbs for creative results
Adjustable predelay on all reverbs up to 200ms
Pristine analog audio front-end with 24 bit converters and >100dB dynamic range (ADC to DAC)
High dynamic-range floating point signal processing prevents internal clipping
Low-latency signal processing of around 1ms
High-quality LCD screen shows settings and metering
Quick-access parameter controls for MOD control, reverb filter and size
1/4" line audio jacks using high-quality Neutrik connectors
MIDI control of all functions via USB or DIN MIDI
MIDI hardware THRU jack for daisy-chaining
Internal memory for storage of up to 99 presets plus live settings - Factory presets designed by Patrick McMaster
Free web-based KAPatchLoader upload/download tool for managing presets
5V USB powered, draws less than 250mA - great for portable use
Integrated 100x100mm VESA mounting holes permits secure mounting using standard hardware
High quality USB cable and power supply included

North American and Japanese customers and dealers receive a US-style USB power supply
UK and European customers and dealers receive an EU-style USB power supply
We do not have other plug types available at this time. Please use a mains plug adapter or a high-quality USB power supply / charger of your own choosing.

Dimensions: 7.0" x 6.0" x 2.5" (with knobs)
Weight: 2lbs (0.9kg)
Availability
Price $369 USD

---
Sounds
Artist Performances
Racket & Klang - Glacier III
An ambient piece performed live by Racket & Klang at Eastern Bloc - Modular Mondays Montreal - recorded: 2019-01-14
Demo Clips
Imagine
A simple piano loop played through the Imagine preset. The reverb, swells and panning are all produced by the REDOX preset.
---
Classeeq
PHENOL arpeggiator LFO played through the Classeeq preset.
---
Sweetish
A step-sequencer synth line played through the Swish preset. You can create all kinds of filtered and moving reverb sounds with REDOX.
---
Warblet
The Warblet preset adding echoes and movement to a bell-like FM piano sound.
---
Concept
Kilpatrick Format dual oscillators driven by the K7 Entropy Sequencer using the Concept preset.
---
Crusher
Some weird PHENOL oscillator sweeps played through the Crusher preset to add some aliasing and lo-fi sound.
---
Orbit
Solo vocal tune performed with the Orbit preset. The timbre panning and reverb are produced by REDOX.
---
Swish
A complex arp line with timbre and panning created by REDOX.
---
Videos
Introducing: REDOX Stereo Reverb
---