---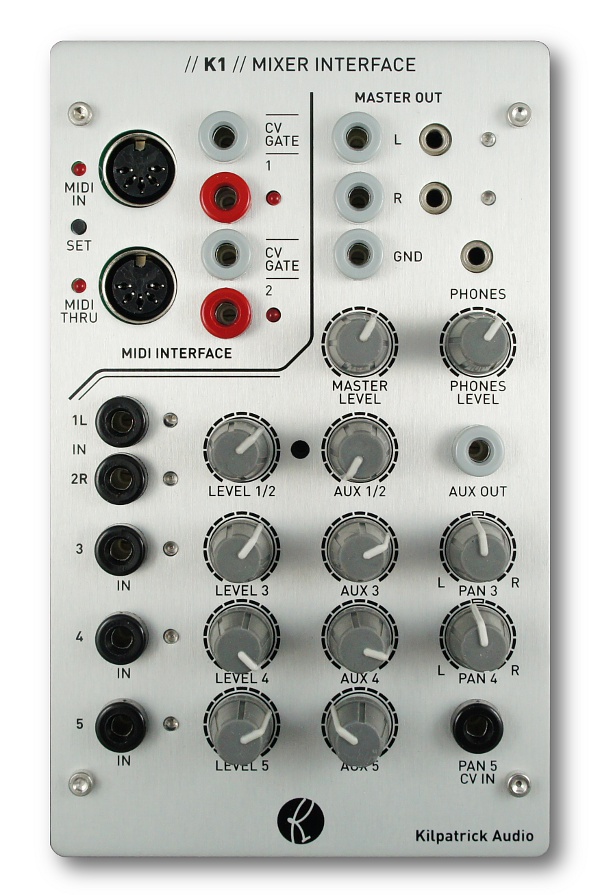 K1 Mixer Interface
Kilpatrick Format Mixer and MIDI Interface - 1 Space
The K1 Mixer Interface module is a combination of a high quality five channel audio mixer and MIDI to CV converter. The mixer is designed for high level signals from other modules and offers both an AUX send for use with effects, and dual stereo outputs on banana and mini jacks, as well as a headphone amplifier with dedicated volume control.
Mixer Section
The mixer circuit incorporates high quality low-noise inputs on banana jacks. Three mono channels and one stereo channel all contain input level indicators and input level controls. The stereo channel offers an AUX send level control which sends a post-input level blend of the left and right channels to the AUX output.
The mono inputs offer level controls, a post-input level AUX send, as well as a pan control. Channel 5 offers a CV input for panning instead of a pan control.
The master output contains a stereo level control and a pair of banana jacks suitable for connection to other modules or daisy-chaining several mixers. A pair of mini jacks offer line-level signals that can be output to external audio equipment. Signal level indicators show the levels at the output jacks and sense the levels after the MASTER volume control. A ground jack provides access to the analog ground on the system.
A dedicated headphone amplifier provides a stereo output on a mini jack with a dedicated level control. This output can also be used for powered speakers or stereo recorders that work more conveniently with stereo mini cables.
MIDI Interface Section
The K1 also contains a small but useful MIDI to CV converter. Built on the success of the K1600 MIDI Interface, the MIDI to CV converter on the K1 supports a number of useful MIDI to voltage conversions, plus a MIDI THRU jack for daisy-chaining. Outputs can be assigned to note, control change and pitch bend messages. Note playing modes include single (mono) mode, split keyboard mode, two-voice polyphonic mode, which is expandable up to 16 voices with additional modules, Arp Odessey-style duo-phonic mode, and single (mono) mode with velocity output on the second CV output jack.
Outputs are programmed by pressing the SET button to select the output mode to program and then sending a MIDI message to the unit. The MIDI channel, output type and other parameters are stored automatically in the module and restored at power-on.
Availability
No longer available.
---